Organised by the Singapore Institute of Architects (SIA), the Geylang Serai Cultural Precinct Design Competition was launched on 22 January 2021 to call for ideas to enhance the key gateway to the cultural belt at the junction of Geylang Road, Changi Road, Geylang Serai Road, and Joo Chiat Road to showcase Geylang Serai's strong heritage and cultural identity and reinforce the role of the area as the 'go to' destination to experience Malay culture.
The Design Competition has yielded encouraging responses from the industry. After the Jury Panel's careful deliberation, three top proposals from the pool of submitted design schemes have been selected which respond creatively to the context of the site, respecting the qualities, history and character of the existing built surrounding with design ideas proposed that are physically, socially and culturally inclusive to all residents and visitors.
Following the announcement on 16 July 2021, the winning MDT will be commissioned to develop the design and oversee implementation of the works on site, along with the People's Association, Housing & Development Board, National Environment Agency, and Land Transport Authority.
Winning Design by BDP Architects (Southeast Asia) Pte Ltd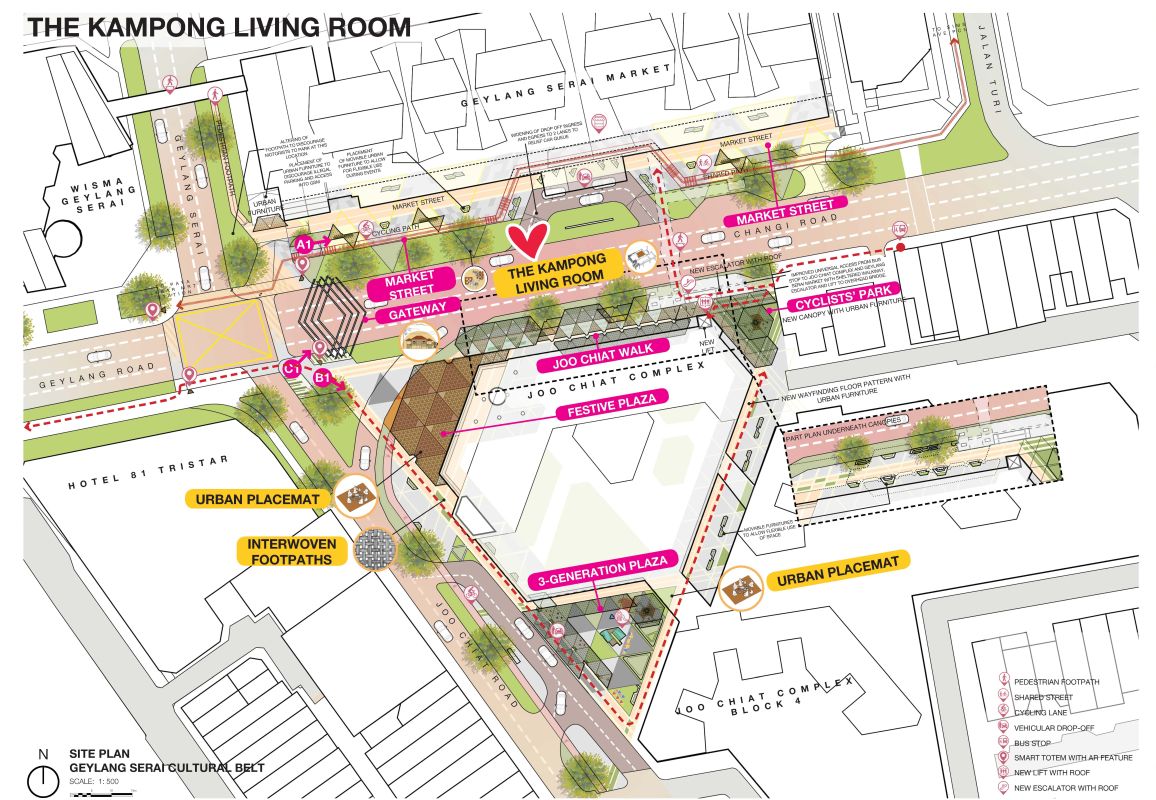 Jury Citation:
BDP ARCHITECTS's entry is the jury's unanimous choice for 1st prize.
The Kampung Living Room proposal shows exemplary care to understand the aspirations of the Malay community, i.e., both as an inclusive precinct with a strong community spirit and an exciting destination to experience Malay culture. It draws references from daily lifestyle in a Malay kampung, where the proposal adapts elements like kampung living room (as a central communal space), with use of pitch roof, place mat as a gathering zone, agriculture and weaving into the design motifs.
The jury appreciates the well-thought out series of urban design interventions and enhancements. Cultural inference is interpreted by modular geometric elements inspired from festive garments and textile of songket weaving. In addition, the detailed design features of landscape, universal design and urban street furniture and its modular typology. The scalability, adaptability and mobility of the street furniture canopies to suit different needs are highly compelling ideas. The jury complimented the proposed optional items as admirable and, depending on budget and operational conditions, are worthy considerations.
The landmark gateway, with its high-pitched roof and alternating structural elements, needs design development and study to its constructability. Its location at the designated "genius loci" where Market Street meets the Joo Chiat walk, will need to be reviewed due to traffic safety concerns.
The Kampung Living Room proposal is a detailed and thoughtful design, with a strong identity and reflective of the shared vision for Geylang Serai Cultural Belt. BDP ARCHITECT's design truly deserves the winning prize.
2nd Prize: Red Bean Architects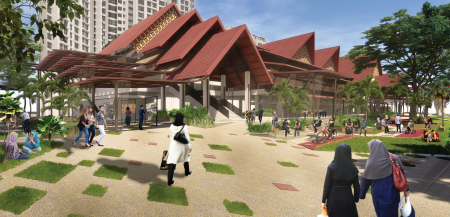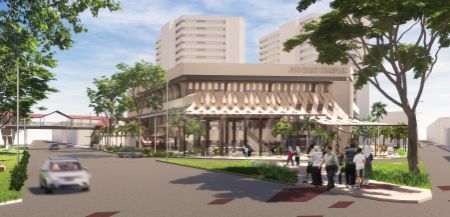 Jury Citation:
RED BEAN ARCHITECTS's is the jury's choice for 2nd prize.
The Retracing Geylang Serai proposal is well-conceived, culturally sensitive and responds well to the site context with the use of pitched roofs prevalent in Malay vernacular architecture.
The translation of the "weaving of coconut fronds" in a Malay plantation into a contemporary diagrid weaving language that overlays and interweaves with the existing fa ade grid of Joo Chiat Complex enhances the overall refurbishment works. The roof eaves extensions and its resultant outdoor spaces, with its potential to adapt from ordinary configuration to festive periods set-ups, are design features that successfully unify the proposal.
The Retracing Geylang Serai proposal is a well-referenced and sensitive design, with a strong unifying design language that celebrates communal gatherings.
3rd Prize: RSP Architects Planners and Engineers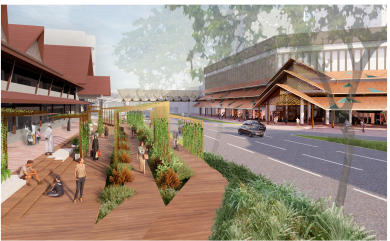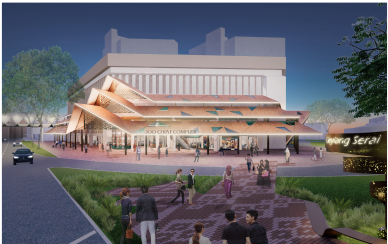 Jury Citation:
RSP ARCHITECTS PLANNERS AND ENGINEERS' is the jury choice for 3rd prize.
The RUMAH proposal strongly evokes a familiar kampung ambience, and capitalises on the abstracted patterns in a songket tapestry to create a sense of cultural node and home for the community.
The bold use of perimeter tiered pitched roofs creates a prominent and porous plaza at Joo Chiat Complex that integrates well contextually with the neighbouring Geylang Serai Market and Wisma Geylang Serai.
The interplay of patterns along the pavement is delightful and helps to tie the various areas together.
This architectural design competition was organised by Singapore Institute of Architects, sponsored by People's Association, and supported by Housing and Development Board, Land Transport Authority, National Environment Authority, National Parks Board and Urban Redevelopment Authority, .
About People's Association
PA was established to promote racial harmony and social cohesion in Singapore. PA offers a wide range of programmes to cater to Singaporeans from all walks of life – connecting people to people, and people to the government. PA does this through the network of 1,800 grassroots organizations (GROs), over 100 Community Clubs, 5 Community Development Councils, the National Youth Council, National Community Leadership Institute, Outward Bound Singapore and Water-Venture.
PA's mission is to build and bridge communities in achieving "One people, One Singapore" and building social capital using "All C.A.R.E.", all Channels to reach out to all Ages, across all Races, living in all Estates. PA's role is to bring people with common interests and traits (e.g. activities and courses) or together to interact and bond. Enabling and encouraging residents to form groups, and develop friendships around common interests, PA's aim is to connect communities and groups with different interests and backgrounds (e.g. different races, religions, socio-economic backgrounds), and bring them together on common platforms where they can develop friendships and strong bonds. All this is done to help build a resilient and cohesive community "One People, One Singapore" that stands united and stays together, regardless of race, language or religion.